OF course…. the 500th round mark. Coming up VERY soon.
If you do the math, that comes out to a nice round number of NINE THOUSAND holes! Also, you can see that with 151 days left, even one round per day beats the record. Looking good! And speaking of looking good…
We have been very lucky to have a few short weeks of one of our favorite golfers living with us, prior to her first apartment in NYC! ( another milestone. ) Pictured below, Michelle is getting in some golf while in Ridgefield.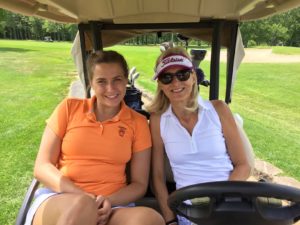 It has been fun!
Many of you have been asking when Barry will hit number 611 to tie the record. What do you think?? Hit "Leave a Reply" below to weigh in on the website, or send an email with your prediction. I will post who was closest when we know…