Only 3 of 4 of our kids were in town for the final round, but they played those 18 (walking and carrying clubs in solidarity) with us!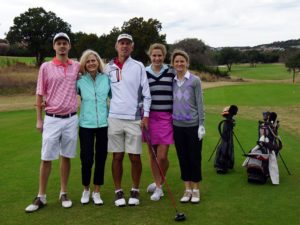 This photo is terrible of me, with my "I am so cold it hurts" face, but I am posting it anyway so you can see the sky and the weather as the round started. Loved having my beautifully colored FootJoy windproof on! (not so subtle Thank You to them for both of our jackets!)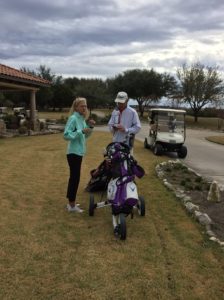 Jordan from FootJoy, and Matt from The Hills were with us the whole way getting video of The Shoes. THE Contour Fit FootJoy shoes that Barry put more rounds on in a month than many do in a year. And the ones that were so comfortable and kept his feet dry during a nasty run of December weather.
Thank goodness the wind subsided and the sun came out. And so did the supporters! We played the front 9 with many people coming out of their homes to yell "Congratulations, Barry!" across the Golf Course, but by the back 9 we had people following us in their carts and/or walking. Here is the "gallery" forming…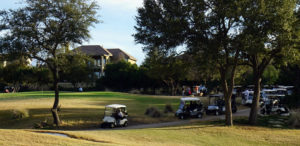 We had several people as guest players on holes, and I hope to receive photos that I can include in a whole post about them. There were some highlight moments including when Brian was tracking for a hole-in-one on number 15 (almost!) and the gallery gave him an ovation. In fact, he had several moments where he got that reaction from them! I guess he thrives with the pressure of an audience.
On 18 we had Clayton Reed, Kathy Skinner and Kevin Paulsen. This is a nice sun effect (or else God is a golfer) on Barry before teeing off, captured by the awesome photographer Cynthia Hoff.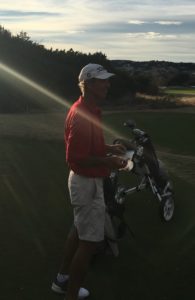 Here is the family walking up to the 18th green together with Clayton on the right. By this time I was laughing at the crowd forming.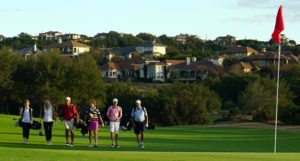 We are told that Barry almost holed out his last shot from the fairway. That must be why the crowd let out such a whoop!. He only had this putt left, after the ball hit the hole and bounced away. Of course he sank it!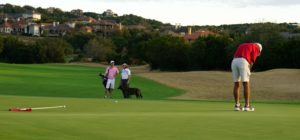 What we expected was 20-30 people for a champagne toast, but it turned into nearly 100 people. So many well-wishers, and friends from years ago.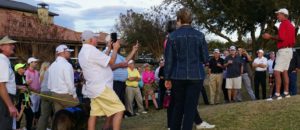 Kathy and Al Kilberg had been our videographers for several holes, with Cynthia Hoff on the still photo duty. What great friends who thought of everything we could possibly need! Karen and Bruce traveled an hour to be there at just the time we headed up the last fairway, and Larry Kener and Rich Blakeman had a Facetime congratulations chat with "The Guy" as chaos ensued after the last putt. What looks like Elizabeth unable to put down her phone is really our British family member, Stewart McGregor, on a Facetime from London. That across the pond Facetime started just as we finished #17. Stewart gets the award for farthest away AND staying up late to be part of the very end of Barry's quest.
As those who know him well can attest, Barry can be a little sentimental. Exhibit A…
UPDATE:
The following are textbook symptoms of Post Fanatic Golf Syndrome (PFGS)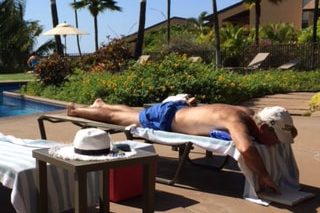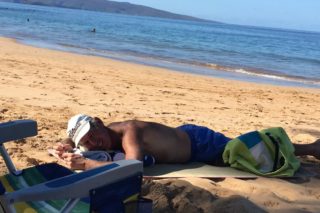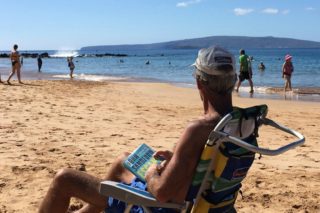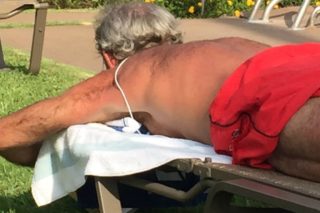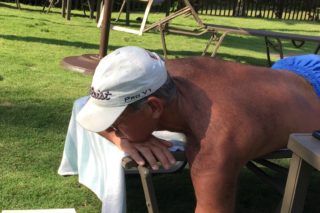 You get the picture!
And after 2 weeks of symptomatic PFGS, a little "Ski-Habilitation" helps!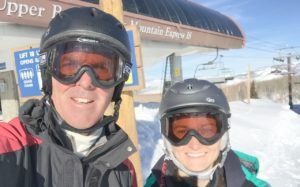 Until you get plowed into by an out of control stranger and land on your shoulder and torque your knee!
Thank goodness the golf quest is done. Recovery is hard…