From Barry:
During my parents visit last week, one afternoon my Mom drove the cart for Dad, so that I could walk and get in another qualifying round.  We were playing in front of a couple that was extremely patient.  Although our pace of play was pretty good, it took a lot of hustling on my part to keep us moving along.  I think the couple recognized the effort and cut us some slack, rather than getting all worked up as people often do.  In the end, we were waiting for the group in front of us most of the time anyway, and on about the 15th hole we asked the couple to join us for the last few holes.  They accepted the invitation, and we all had a chance to meet Judy and Charlie Shelton.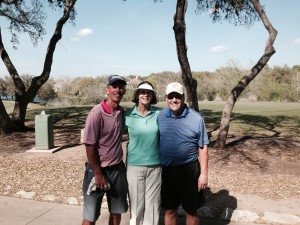 What a great couple!  Not only were they were extremely kind and courteous to my parents, which I very much appreciated, but they were a real pleasure to play with.  That's one of the things that makes golf such a great game…the people that you meet along the way.  People often suggest to me that they aren't "good enough" to play with me.  That's nonsense for many reasons, mostly because I'm not that good to begin with myself.  More importantly, the criteria that I use for deciding whether I want to play with someone is not what score they shoot, but instead whether they move at a reasonable pace, and if they are a pleasure to spend four hours with.   Judy and Charlie fit the bill, and I told them that I would welcome the opportunity to play with them again anytime.
Little did I know, that a few days later they would be stalking me at The Hills.  They had a tee time right behind me, so we decided to tee it up together.  We had a great day.  My golf was below standards ( I'm not sure I'm good enough to play with the Shelton's).  I tried to challenge myself by betting Judy that I would shoot a 37 or better on the back 9.  For the record, I lost two beers, one for Judy and one for Charlie.  While I have tried to pay off the bet, the Sheltons really seem to enjoy having this debt hanging over my head.   Judy made some excuse about having to go wash her hair so that she could meet Sir Nick Faldo that evening.  Rumor has it her hair looked beautiful, but Sir Nick didn't see it given that he was a no show, so it was a bit of a waste of shampoo there Judy!
In all seriousness, I really enjoyed meeting, and playing with the Sheltons.  I feel like I've made some good new friends, and that we will have many opportunities to play together in the coming months.