Word has started to get out!
In fact, before we had a chance to tell Barry's dad about this website,
he heard about it at Valley Country Club in Colorado!
(That really surprised me!)
Barry's Uncle Barry, whom he is named after (or is that obvious?), is in Florida this winter.  He is on board with tracking his nephew's progress through this website, as well.
Unk Bar was with cousin Melissa (of COURSE playing golf.  It is in the blood) and sent this text…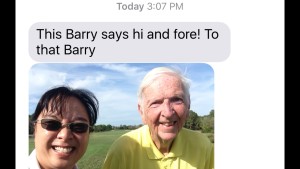 We have hits on the site from Hawaii to Boston, and everywhere in between. Barry needs all the well wishers and support he can get. It is only March!
I am still waiting for someone to use the comment section to weigh-in internationally! Stewart? Joe? Nicky? Somebody?
Who will be first?