From Barry:
Today, I did something that I've never accomplished on the golf course before – I played 72 holes.  I teed it up at 7:56 this morning at Flintrock Falls.  Took about a 40 minute break to have a bite to eat around 1:45.  Walked off of the course at 7:19 this evening.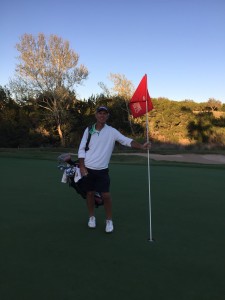 It was nice to have my wife walk with me for the last 9 holes, as I needed a bit of moral support at that point.  It was a long day, I walked over 56,000 steps, and logged over 28 miles.  That's longer than a marathon race…and it feels like it.  I had played 63 holes on several occasions before, but 72 is a new milestone for me.
Not sure I'm going to repeat it anytime soon, however.  Only one guy was on the course longer than me today, and that's Aaron Clary, the course superintendent.  He started his day at 6:00am, and was still cutting greens at 7:30.  So, I guess Aaron's the real Marathon Man.