Another new record set.  This one, a personal one.  And anyone ready to act like it is no biggie… just THINK about it!!
90 Holes in ONE DAY.  Ninety.  Nine Zero. FIVE ROUNDS. 28.7 miles.
Here is the photo Barry sent me of the end of his round…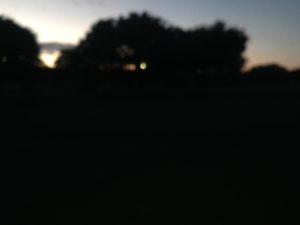 In other words, glow-in-the-dark balls needed.
Is that an abandoned car you ask? ….. NO! That is just Barry Gibbons' car. He is out there finishing up his day of golf!