Today, I achieved a goal that I had set for myself last year. I played my 611th and 612th rounds of golf this year, having walked each and every one of them. I had the pleasure of playing #612 with my father, at the club where he has been a member for 50 years, and where I learned to play this great game.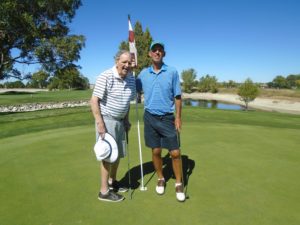 This breaks a world record held by Richard Lewis in Dallas, TX. Little did I know when I undertook this challenge, just how much effort, dedication, and commitment would be required to get across the line. Until one undertakes an extreme challenge like this, you just can't appreciate how difficult it can be. Needless to say, I have tremendous respect for Richard Lewis and appreciate the inspiration his record provided to me.
When I undertook this quest, I was simply doing so for the personal challenge…to see if I could achieve it, and to get myself back into a good, fit condition after spending 34 years in the corporate world. There was (and still is) zero level of interest in any publicity associated with it, but that has gotten more difficult to avoid. I have been truly amazed at the level of interest from my friends, golfing partners, acquaintances, strangers, magazines, newspapers, etc. It's interesting to see how people learn of what you are doing, and have a genuine interest in how you're progressing. The support I've received has been very motivational. Once you go public with something like this, and people are behind you, you really don't want to let them down…even if it's something as silly as playing golf. I want to thank everyone for the constant support, particularly on those long days when I was trudging through round 3 or 4. Particularly, my friends at The Hills of Lakeway and Ridgefield Golf Club. The staffs at both clubs have been so accommodating in helping me to get in as many rounds as I have.
More than anything else however, the unwavering support of my wonderful wife Joy has enabled me to pursue this dream. Unquestionably, she is the best thing that ever happened to me in life. Neither of us recognized how consuming this pursuit would be, and just how little time it would leave for me to do much of anything else. Thus, everything has fallen into Joy's hands for the past 9 months and there hasn't been a single time when she has complained, been frustrated, or resentful. For those of you that know Joy, I know that you are not surprised. And for those that don't know her, you should because they just don't come any better.
For you Joy I simply cite the following song lyrics since I couldn't say it better myself.
And I'm gonna make you this promise
If there's life after this
I'm gonna be there to meet you with a warm, wet kiss
AND
….I don't ever wanna wake up looking into someone else's eyes.
Another voice calling me baby on the other end of the phone.
A new girl putting on her makeup before dinner on Friday night.
No I don't ever wanna know-oh-oh,
No other shotgun rider beside me singing to the radioooooooo.
No other shotgun rider….

So, where do we go from here? I'm going to try and obliterate the record. Take it to a new level. My target is 850 rounds. That leaves me 230 to go, with about 104 days to go. That's only 2.2 rounds per day….piece of cake, can coast home from here! That's it for now, time to play some golf.