When I installed the countdown clock on this website it was hard to imagine ever seeing it at zero days.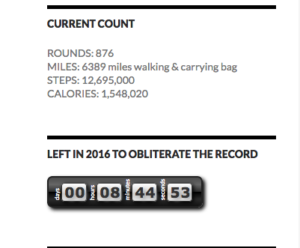 I have to say, it looks pretty awesome to me.
As I (Joy that is.  Barry is out there doing number 877 right now) anticipate a final round of the year, with 3 of the 4 kids being able to be here, and many of our good friends waiting at the end with champagne to celebrate, I can only feel gratitude. What an experience!
We didn't have any idea what we were getting into, but it has been an adventure. The part we knew was the challenge.  The part we never anticipated was the great people and support we have experienced.  In the end, our hugely expanded "golf family" is really what it is all about and what we will savor.
Before we go out there, I just want to say THANK YOU! to anyone reading this, because if your eyes are here… you have been part of this journey with us.  You have enhanced our lives and we appreciate it!  We will never forget 2016.
Now, let's go get this thing wrapped up!  🙂