We went to THE BEST new restaurant called Napa Flats, that is near 2222 on 620.  It was SO worth an extra few miles beyond our "usual" Lakeway restaurants! It probably took 6 extra minutes. Here they are with Amy because cousin Tom had to scoot out.  We enjoy Tom and Amy and seldom see them, so this was a real treat. And speaking of treats, read on…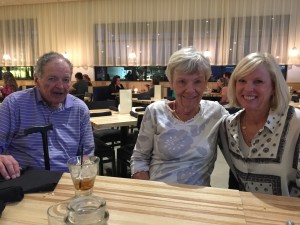 We tried many of the items on the Napa Flats dinner menu, and I couldn't believe how delicious! For those of you who don't know me, FOOD is my thing, not golf, so I am taking golf-website-editor-liberties and spreading the word about Napa Flats.  At least post-golf food is almost everyone's thing! so let me list a few items you must try at this very new, very reasonably priced restaurant, oozing with a charming wine bar-ish vibe, that is way above its pay grade:
Wood-Fired Avocado– grilled avocado filled with chimichuri sauce on top of a bed of corn salsa, served with chips.  This is my new favorite appetizer, that doesn't ruin dinner hunger.  This combo knocked my socks off.  An unusual must try! only $7
Palo Alto Dip– sun dried tomato and artichokes blended with cream cheese, parmigiano,and herbs. Served with Napa Flats bread.  I could have made a meal on these first two I have listed.  This dip was a perfect blend, creamy and warm, with lightly toasted flat bread. $8 for enough for the table.  It paired deliciously with the Pinot Grigio I had that was on tap!  Yes, on tap!
Chonburi Shrimp– six spicy fried shrimp served over Napa slaw.  This is a short description for big taste! Slightly spicy, perfectly crunch-ified (I take liberties with making up words, too) coating and flavorful, not fishy, shrimp.  This may be my favorite thing that I tried- but hey, I am only on the appetizers, so far, aren't I?  But 6 shrimp (like this!) were only $9.  I am in love.
Sesame Crusted Tuna– sushi Grade Tuna, crusted in sesame seeds like I pay $22 for in NYC… for $11!  And I swear it was more fresh than its expensive Manhattan kin.
If you look at the
Napa Flats Menu
I can vouch for the quality and tastiness of the Salmon, Tony's Pasta, Spaghetti and Meatballs, and Margherita wood-fired pizza.   If you are picturing me with a big happy grin, taking tastes from every plate on the table… you would be accurate.
But then!!  There were the ribs! Not just any ribs, because I usually don't care for ribs (usually too fatty and sinew-ey (there I go with the words again) for my taste, but oh no no!).
Tuscan BBQ Ribs- fire roasted then finished on the grill with an espresso-honey BBQ glaze.  One dish, and I am converted.  Now, apparently I love ribs!  Who knew?  These fell off the bone, with zero piece-parts that I would have had  to close my eyes and pretend were not near my lips.  None.  And did I mention they were $17?  My BBQ rib benchmark is now incredibly high.  In AUSTIN no less!
I am going back to Napa Flats for this:
Mush n' Spin Wood Fired Pizza– mushroom, spinach, caramelized onion, whipped ricotta, mozzarella & fried Brussels sprout leaves tossed in white truffle oil… on a perfect wood-fired pizza!!!  Right up my alley 🙂
I feel I must stop before this becomes a restaurant critic blog.  However, I feel not-at-all guilty that my typing today was spent on the thing I love as much as Barry loves golf.  (I see "most restaurant meals in a year" world record in my future!)
Anyone want to go to
Napa Flats
with me for wine and appetizers? And if we stay for dinner… even better!